Block bottom bags in matt finish - CHRISTMAS PATTERN
Two-layer pocket with a bottom in a block made of OPP foil coated with kraft paper in a matt finish. Matt with christmas pattern. OPP foil creates a protective barrier against odors, moisture and UV radiation. The bottom of the pocket is a block and has a side bend. As a result, the bag is stable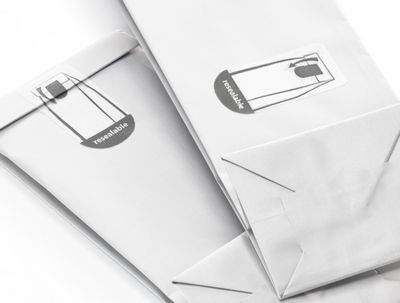 after filling.
There is a practical resealable label on each bag. However, the bags can be closed with a clip or label, which you will also find in our offer. The bags are ideal for various types of products, such as tea, spices, biscuits, pastries or sweets.
However, the bags are not intended for any specific contents. You can order samples free of charge and without obligation to test whether the pocket at the bottom of the block is suitable for your object.
The pockets on the bottom of the block are:
without weight marking
do not contain aluminum
safe for food
stable (filled)
odorless and tasteless
there is a practical resealable label on each bag
three types of design, by volume for approx. 50g, 100g and 250g. The volume of goods in the bag depends crucially on the nature of the product
Country of origin: 

Data sheet
Farba

matt Block bottom bags in matt finish - CHRISTMAS PATTERN

Dimensions

50 g, 55 x 30 x 195 mm

Dimensions

100 g, 70 x 40 x 225 mm

Dimensions

250 g, 80 x 50 x 260 mm

Material

OPP matt, kraft paper coated

Closeable with ZIP:

No

Weldable:

Yes
1. Doprava kuriérom DPD Slovensko

Doručenie s PIN kódom je bezkontaktným doručením a výrazne uľahčuje doručenie zásielky aj v prípade ďalšej vlny pandémie koronavírusu. Vygenerovaný jedinečný kód pre každú zásielku je zaslaný len adresátovi, ktorý je oprávnený balík prevziať. Adresát môže PIN kód zveriť osobe, ktorá prevezme balík miesto adresáta. Príjemca sa pri doručovaní s PIN kódom nemusí preukazpvať dokladom totžnosti, alebo podpisovať prevzatie zásielky.
Na prevzatie zásielky stačí zadanie PIN kódu. Príjemca je deň pred doručením informovaný prostredníctvom SMS alebo mailom s číslom balíka a prepokladaným termínom doručenia s výškou dobierky. Príjemca má možnosť zmeniť deň doručenia zásielky odpoveďou na mobilný telefón alebo mailovou správou. V deň doručenia je príjemca ďalšou SMS informovaný o časovom okne v ktorom bude zásielka doručená. Dobierka môže byť uhradená v hotovosti, alebo platobnou kartou.
Cestu vášho balíka môžete kontrolovať v našom nástroji Sledovanie zásielok. Do políčka stačí iba zadať číslo vášho balíka (štandardne má 14 znakov) alebo referenčné číslo.
Miesto alebo termín doručenia balíka môžete zmeniť telefonicky na čísle 02 / 32 773 373 alebo mailom na dpd@dpd.sk alebo cez link, v prípade, že vám prišiel v avizácií.
Doba doručenia - nasledujúci pracovný deň. Cena za dopravu je závislá od hmotnosti objednávky a zobrazuje sa v procese objednávky po výbere dopravcu. V zmysle obchodných podmienok DPD je spoplatňovaná platba na dobierku.

2. Doprava službou PACKETA na odberné miesta

Pre zákazníkov, ktorým nevyhovuje kuriérna služba a tovar si vyzdvihnú radšej osobne a v čase, ktorý im vyhovuje ponúkame službu Packeta (predtým Zásielkovňa).
Pri objednávke v e-shope si vyberte výdajné miesto, ktoré máte najbližšie. Hneď ako odovzdáme tovar Packeta k preprave, bude vám zaslaný e-mail s trasovacím číslom. Cestu vašej zásielky tak môžete sledovať online. Po doručení zásielky na vami zvolené výdajné mieto vám bude zaslaná bezplatná SMS a e-mail s heslom.
Od tejto chvíle si ju môžete kedykoľvek do 7 dní vyzdvihnúť. Zásielku si nemusíte vyzdvihnúť osobne ak ste zaneprázdnený, ale môžete po balík poslať niekoho komu dôverujete – nemusíte nám ukazovať občiansky preukaz, stačí vedieť heslo.
Pokiaľ akurát cez týždeň nemáte čas, žiadny stres: proste nám pošlite spätnú SMS a lehota môže byť zdarma predĺžená až na 21 dní. (Táto služba môže byť pred Vianocami dočasne pozastavená). Doručený tovar si môžete priamo na výdajnom mieste rozbaliť a prípadne vrátiť späť.
Doba doručenia 1 - 3 dni
Balíky doručujeme do hmotnosti 10 kg. V cene nie je zahrnutá cena dobierky, ktorá je spoplatňovaná v zmysle tarify Packeta podľa výšky dobierky.

Ceny za dopravu sa zobrazujú zákazníkovi v procese objednávky po výbere dopravcu.
Termíny vyskladnenia tovaru:

Objednávky vybavujeme v poradí akom nám boli doručené a v závislosti od okamžitého stavu jednotlivých položiek na sklade. Spravidla je objednávka odoslaná do 24 hodín. Momentálne nedostupný tovar vybavujeme po dohode so zákazníkom.
V prípade platby za tovar bankovým prevodom zásielku odosielame v deň pripísania úhrady na náš účet.
Ak niektorá položka z objednávky nie je skladom, budeme vás obratom informovať o možnom termíne expedície celej objednávky, alebo časti objednávky.
Bez ohľadu na vybraný spôsob doručenia vám bude zaslaný odkaz na sledovanie pohybu zásielky.
Poplatky za dopravu zahŕňajú manipuláciu a balné, ako aj náklady na prepravu. Manipulačné poplatky sú stanovené, cena za prepravu sa líši v závislosti od celkovej hmotnosti zásielky. Odporúčame vám zoskupiť položky v jednej objednávke. Pri vytvorení dvoch rôznych objednávok budú prepravné náklady vyúčtované na obe objednávky zvlásť.