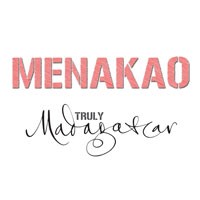 Menakao Dark chocolate 63% with cocoa nibs & salt
Zásady zabezpečenia

(upraviť pomocou modulu Ubezpečenie zákazníka)

Zásady doručenia

(upraviť pomocou modulu Ubezpečenie zákazníka)

Zásady vrátenia

(upraviť pomocou modulu Ubezpečenie zákazníka)
Description
Crunchy nibs (crushed cocoa beans) brings a rustic and robust touch that blends perfectly with the tangy freshness and red fruit notes of chocolate. The fleur de sel tip enriches and prolongs this experience, bringing a pleasant feel, enhancing the subtle acidity of the cocoa beans.
Ingredients: Madagascar cocoa beans, cane sugar, pure cocoa butter, bean chips, marine salt flower, emulsifier: sunflower lecithin.
Possible presence of nuts and milk proteins.


The image represents the portrait of a Tanala woman (Those who live in the forest): The Tanala populate the forest region located in the South East of the island between the coastal region stronghold of Antemoro and the Highlands occupied by the Betsileo. This group derives almost all of its resources from the forest. Hunting, gathering of plants and wild honey, but also the wood cutting, the traditional cultivation of rice on "tavy" (land deforested by fire) and coffee cultivation are the main occupations of this population of the forest … The Tanala have a traditional pharmacopoeia. So some healers know the virtues of several hundred species of plants.


Country of origin:

Product Details
Data sheet
| | |
| --- | --- |
| Average nutric value | na 100 g |
| Energy value | 2501,61 kJ/ 597,5 kcal |
| Fats | 41,82 g |
| of which saturated fatty acids | 10,8 g |
| Carbohydrates | 44,28 g |
| of which sugars | 39,4 g |
| Protein | 11 g |
| Salt | 0,11 mg |